Available in red or green versions with automatic levelling, the Datum Constructor Laser Level is a horizontal, vertical and plumb beam laser for maximum flexibility. With its fast levelling and simple one button set-up, the Datum Constructor Laser Level is great for all type of workers – from humble DIY beginners to adept surveying professionals.
Laden with features including an out-of-level warning indicator to show if there are any disturbances to the laser and a simple slope facility in manual mode, a tough IP54 rating, which ensures the laser is protected from dust and water spray from any direction, and a remote control for easy use when the laser is out of reach, the Datum Constructor has timelessly proven itself to be the ultimate solution for precise measurement in construction. Use the Datum Constructor Laser Level for up to 40 hours with the Ni-MH battery pack and expect an increase in productivity and efficiency whilst on-site.
Want to learn a bit more about this affordable and versatile laser? Here we take a look and answer the most frequently asked questions about the Datum Constructor Laser Level.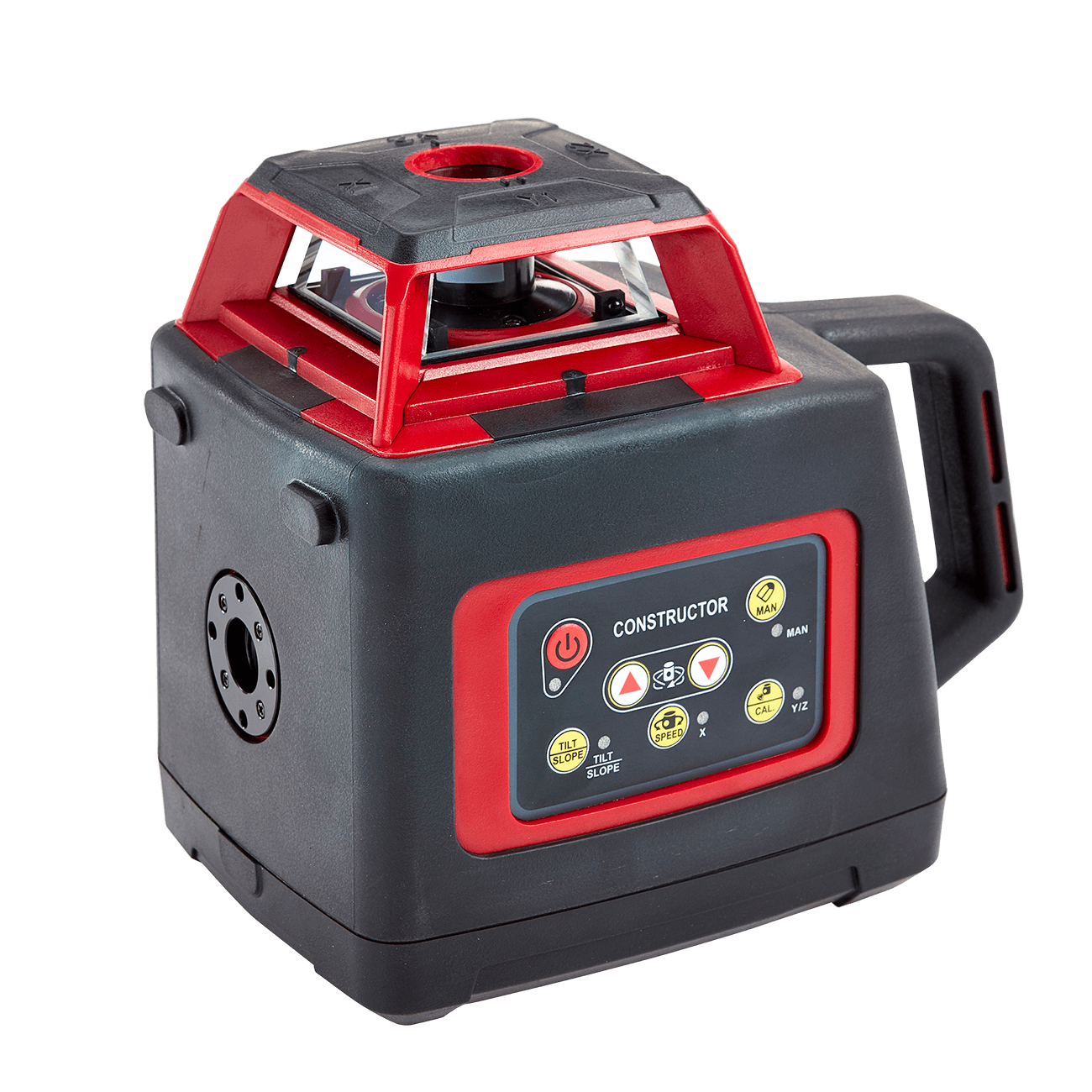 What's the difference between red beam and green beam?
The reason for opting for a red beam or green beam depends on your budget or requirements. Whilst red beam lasers are designed for both exterior and interior applications and get the job done to a satisfactory level, they are much more affordable option owing to the ease-of-use and precision of the green beam laser. The colour green is closer to the centre of the visible spectrum, thus making it up to 400% more visible to the naked eye and therefore perfect for exterior and interior jobs such as suspended ceilings, curtain walling and partitioning.
Can I use the laser outside?
Working outside with a laser can be challenging without the correct instrument or accessories. The Datum Constructor has rotary and line lasers and includes red or green beam glasses as well as a Datum LS-8 Laser Detector, ensuring that you can comfortably use the laser over long distances with a clear vision of the laser beam. The supplied tripod and staff also enables surveyors to take outdoor measurements with ease and precision.
What does the IP54 rating mean?
IP stands for 'Ingress Protection,' which is an international standard rating system used to define how effective the sealing of level or electrical enclosures are against intrusion from dirt, dust, moisture or water. The first digit rates its protection against dirt and dust, the Datum Constructor Laser Level has a '5', an impressively high rating, which means that it is dust protected with minimal dust intrusion. The second digit represents its water resistance; the Datum Constructor Laser Level has a rating of 4, which means it is protected from water sprayed in all directions.
Can the laser light hurt my eyes?
It is advised that users should never stare directly at a laser beam for a prolonged period of time. Occasional direct eye exposure can cause irritation, but does not cause any permanent eye damage – similar to a camera flash. To summarise, the Datum Constructor Laser Level is an efficient class II laser level that is completely safe to use.
What accessories will I need to accompany the Datum Constructor Laser Level?
The Datum Constructor Laser Level comes as a complete kit with the Datum Constructor Red Beam Laser, the Datum LS-8 Laser Detector and clamp, Laser Enhancement Glasses, ceiling target, rechargeable battery, charger, wall mount and remote control. A Datum tripod and staff are also included in the sale price, ensuring the ultimate package with remarkable value for money – everything a beginner needs to get started. For a more detailed guide on the 'must-haves' for every surveyors toolkit, click here.
To purchase the Datum Constructor Laser Level, or for more information click here.